News
4th September Scottish Venison day fillip as Scottish Government pledges funding to enable market research project

September 2019
The Scottish Government has confirmed today, Scottish Venison Day, 4 September, that it will fund baseline research to help Scotland's venison producers and processors better understand the UK venison market, its challenges and opportunities.
One year on from the launch of Beyond the Glen, a strategy for Scottish Venison through to 2030, the Scottish Venison Partnership has reformed and relaunched as the Scottish Venison Association headed by an Industry Leadership Group; wild deer health has been thoroughly examined in a project funded by Scottish Government and Food Standards Scotland delivered by the Moredun Research Institute and Edinburgh University, with a final report to come in the next few months; deer health and handling skills training courses delivered by the Venison Advisory Service have been fully subscribed; and the British Deer Farms and Parks Association (BDFPA) Conference comes to Scotland in early November as interest in deer farming continues.   Bill Bewsher, Chairman of the Scottish Venison Association, said:
"It is essential that we know exactly what is happening in the market, which is complex and changing, and as imports from New Zealand to the UK are declining. We believe we remain in a situation where UK demand outstrips supply, and where market growth is constrained by a shortage of product, wild or farmed.


"The research that we can now commission with the support of the Scottish Government will give us precise and current data on the state of the UK retail venison market. We hope also to undertake work across the catering/food service sectors as well as some basic, long overdue polling of consumer attitudes to venison to be repeated annually to assess developing trends.  This market insight will be incredibly helpful in identifying commercial opportunities and move the whole sector up a gear – which is vital given the challenges ahead.


"We are grateful to the Scottish Government for this support and also to SAOS (Scottish Agricultural Organisation Society) and their work with us as we move the sector forward."
Fergus Ewing MSP, Cabinet Secretary for the Rural Economy said:


"Scotland is the largest producer of Venison in the UK, producing around 3,500 tonnes of wild venison and 70 tonnes of farmed venison each year. With our reputation for provenance and quality we know that there are exciting market opportunities that beckon to help further grow the sector. I am delighted therefore to be able to offer £20k funding to the Scottish Venison Association to provide relevant market insight and help the sector grasp the opportunities that are out there."


Strategic vision outlines sector growth to 2030.

September 2018
The first ever strategy for Scotland's wild and farmed venison sector has been launched, with the aim of bringing together the wild and farmed deer interests for the first time, and setting out nine "key area" for growth across the sector.
Those key areas include skills-building initiatives, a fund to support new entrants to venison farming and the need for further research and development.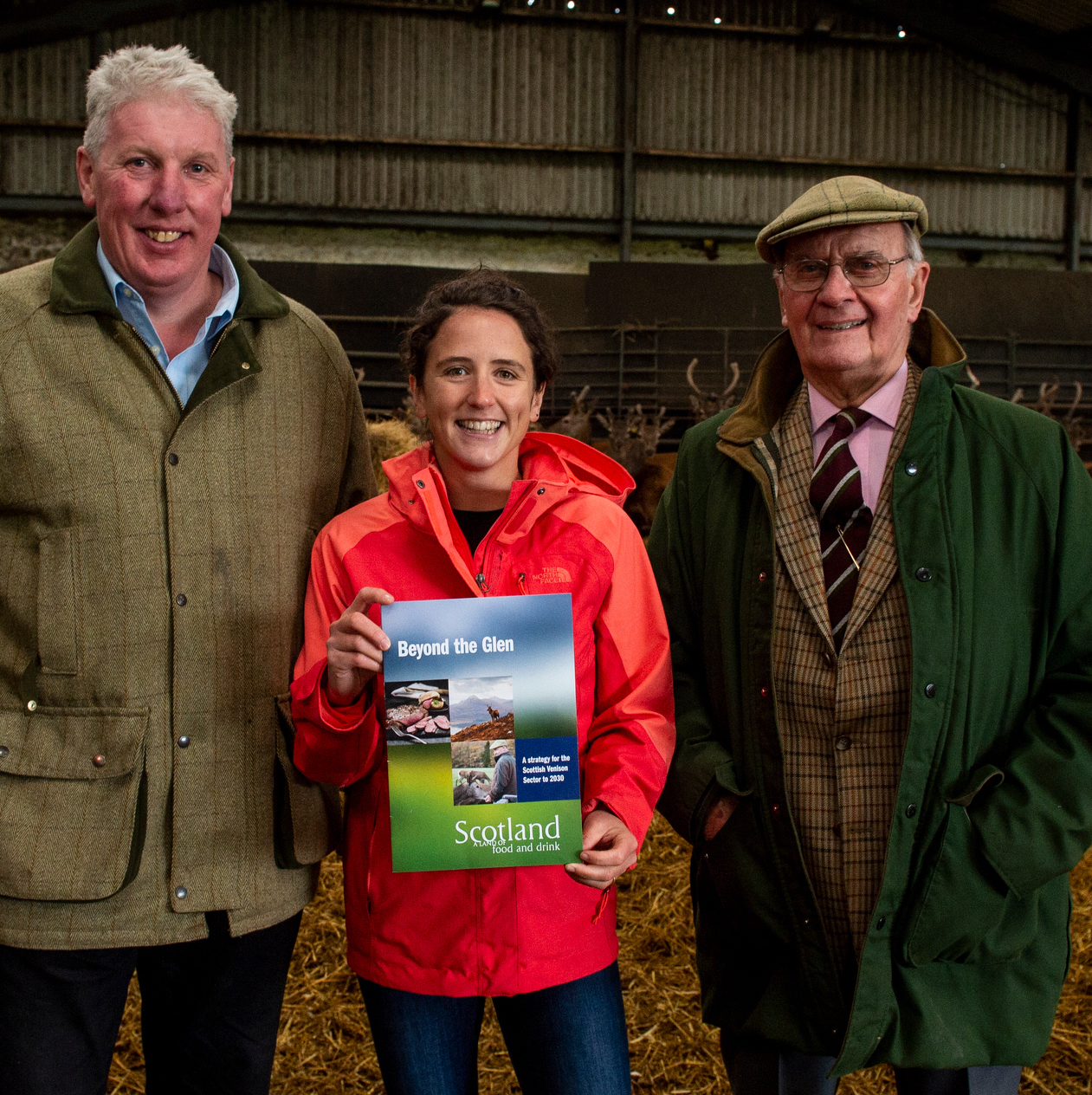 Speaking from Downfield Farm venison processing plant in Cupar, Fife, Minister for Rural Affairs Mairi Gougeon (right with Bob Prentice and Bill Bewsher) said:
"I am delighted to help to launch this strategy for this exciting, burgeoning sector in Scotland's food and drink success story.
"Venison is a premium food, renowned for its quality, provenance and health credentials, and its reputation continues to rise in both domestic and international markets.  We know the venison market in the UK alone is estimated to be worth around £100 million per year and demand has been increasing year on year. With this strategy in place, the sector in a Scotland now has a fantastic opportunity to meet rising demand, displace imports and target new market opportunities.
"I welcome that the industry has come together to develop a plan that will build on the strong foundations put in place by the venison pioneers in Scotland. Deer farming and management play a significant role in supporting a thriving and sustainable rural economy and this strategy will support our shared wider ambitions to grow it.
"And it's very fitting to launch the new strategy on Scottish Venison Day and during Food and Drink fortnight, the annual celebration and promotion of Scotland's food and drink sector. The Scottish Government looks forward to working with the sector to take forward the actions contained with the strategy."
Bill Bewsher, Chairman, The Scottish Venison Partnership, said:
"Venison producers and processors in Scotland, both wild and farmed, will take very significant encouragement from this new strategy.
"We are exceptionally fortunate that on the one hand we have a rich asset in our wild deer as a sustainable source of healthy food and, on the other, increasing enthusiasm and undoubted potential to grow our farmed venison sector to meet expanding markets both in the UK and elsewhere. This strategy points all of us in the right direction with a set of common goals for 2030 and we are grateful for the additional support forthcoming from government in helping us to meet them."
Click here to read Strategy document
Food safety in the venison food chain for upland and lowland deer management
June 2018
On the first day of the GWCT Scottish Game Fair, Friday 29 June, in the grounds of Scone Palace, Perthshire, food safety and the venison food chain is very much in focus with the showing of three new food safety films in the Fair's cookery theatre.
These films, produced by Pace Productions for the Scottish Venison Partnership, Scottish Quality Wild Venison and Scottish Natural Heritage (SNH), have been made to help minimise risk of contamination in the venison food chain.  Each session will be followed by a short discussion/Q & A with a panel including stalkers Jim Govan and Megan Rowland, and Kirsty Macdonald from Highland Game.
These presentations will be of particular interest to upland and lowland stalkers and deer managers.  Entry is on a first come basis.
9.30am Food safety in the venison food chain - lowland focus. Two short films plus discussion.
5.00pm Food safety in the venison food chain – upland focus. Two short films plus discussion.
The GWCT Scottish Game Fair runs from Friday 29 June to Sunday 1 July, Scone Palace, Perthshire.
Ends
UK venison market and Scottish venison production
May 2018
Over the last ten years, UK retail sales of venison have steadily grown. However, UK supply has not kept pace over the same period and imported venison continues to fill the vacuum created by market demand.
Click for full story


Shoot your own venison

July 2017
Win an outing, stalking roe deer in the Scottish lowlands
The Scottish Venison Partnership is encouraging you to photograph your food – as long as it's venison – and send in pictures of either your home-prepared venison dishes, or a venison dish that you have been served in a restaurant or at an event.  Full story


We will be importing even more venison in five years time predicts Scottish Venison Partnership
August 2015
With Scottish Venison Day approaching on 4 September, the Scottish Venison Partnership (SVP) is forecasting that if UK market trends continue the UK will be importing more than double the amount of venison it does now in 5 years time. Full story


Scottish Venison recipe competition 2016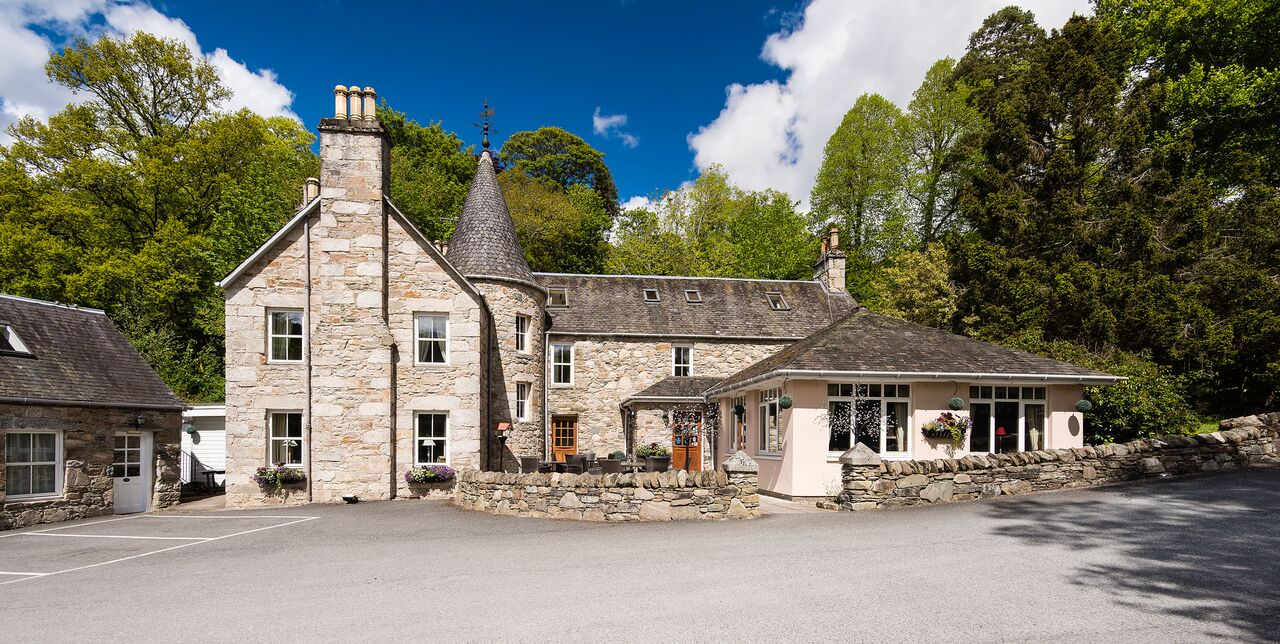 Once again, to celebrate 'Eat Scottish Venison Day' (4th September) we are running a special competition to find the best easy-to-cook Scottish venison recipe. The prize is a two night weekend break for two people in a superior room with dinner, bed and breakfast at the beautiful 17th century turreted East Haugh House hotel just outside Pitlochry. Details and how to enter.


Venison recipe competition winner 2015

December 2015

The winner of our Scottish Venison recipe competition 2015 is Graeme Taylor from Glasgow, who wins a two night weekend break for two at the luxury boutique hotel Monachyle Mhor.
From a great response, which saw nearly 40 entries to the competition, Graeme's recipe of Venison and haggis en croute impressed the judges the most.

Tom Lewis, TV celebrity and award-winning chef at Monachyle Mhor, said: "Venison, haggis and pastry. Find me a fault with any of them. Put together, it's a perfect combination."
Nichola Fletcher MBE, venison ambassador and award-winning food writer, said: "I like this recipe because it really is a very simple way of introducing interesting flavours. It's a complete dish and well presented. It would make a great dish for New Year's Day or Burns Night."
Graeme Taylor, a Chemical Engineer, who also writes a food blog called 'A Scots Larder', said: "I love to cook venison as I think it's the meat that typifies Scotland; rich, with such a wonderful array of flavour depending on the species and also so many cuts, from the cheaper stewing cuts which work well in a long slow cook to a real treat of loin or fillet, cooked quickly for a celebration meal.
"I'm absolutely delighted to win this competition as Monachyle Mhor is a place I've long wanted to visit and is synonymous with quality Scottish Food."
Here's Graeme's winning recipe.
---
Venison competition
October 2015
A huge thank you to all who entered our venison recipe competition, we had a great response. The finalists and winners will be announced soon.
---
Statement from The Scottish Venison Partnership
October 2015
An investigation by Food Standards Scotland over the course of the last week has established a possible link between nine cases across Scotland of E coli 0157 and a number of venison products with use-by dates between 4 September and 1 October 2015.
The products are: Scottish Slimmers venison sausages, Scottish Slimmers venison meatballs, grillsteaks (Highland Game) and venison steaks with pepper sauce (Highland Game).
As the use-by dates for these products have passed they are no longer on sale. There is the possibility, however, that they may be in freezers.
Food Standards Scotland says: "These products should not present a risk to health if they are handled and cooked properly. For advice on handling and cooking of meat and meat products please refer to the FSS website."
Stephen Gibbs, Chairman, the Scottish Venison Partnership, the representative organisation for the producers of Scottish venison, says: "At this moment in time this advice is being given as a precautionary measure and in the interests of public health only as the link between venison and the contamination is unproven.
"The Scottish venison industry has an enviable food health record. We have a quality assurance scheme in place (Scottish Quality Wild Venison) that covers the majority of venison produced here and, as Scottish venison is predominantly meat from a wild animal, those involved in its production across all elements of the food chain are highly trained and skilled.
"Highland Game and the Scottish Venison Partnership are working with the authorities in order to establish how and where this possible contamination could have taken place.
"We believe this is an isolated, rogue incident in an industry that has an exemplary record in terms of food safety. Consumers should have every confidence in continuing to eat venison — but we cannot stress enough that storage and cooking instructions should be carefully followed exactly, as with any other meat product, as well as good personal hygiene in relation to food preparation."
---
Recipe competition — win a luxury weekend
September 2015
We are running a special competition to find the best easy-to-cook Scottish venison recipe. The prize is a two night weekend break for two at the luxury boutique hotel Monachyle Mhor, with dinner, bed and breakfast.
Read the full story and enter the competition.
---
The Venison Bible by Nichola Fletcher

September 2015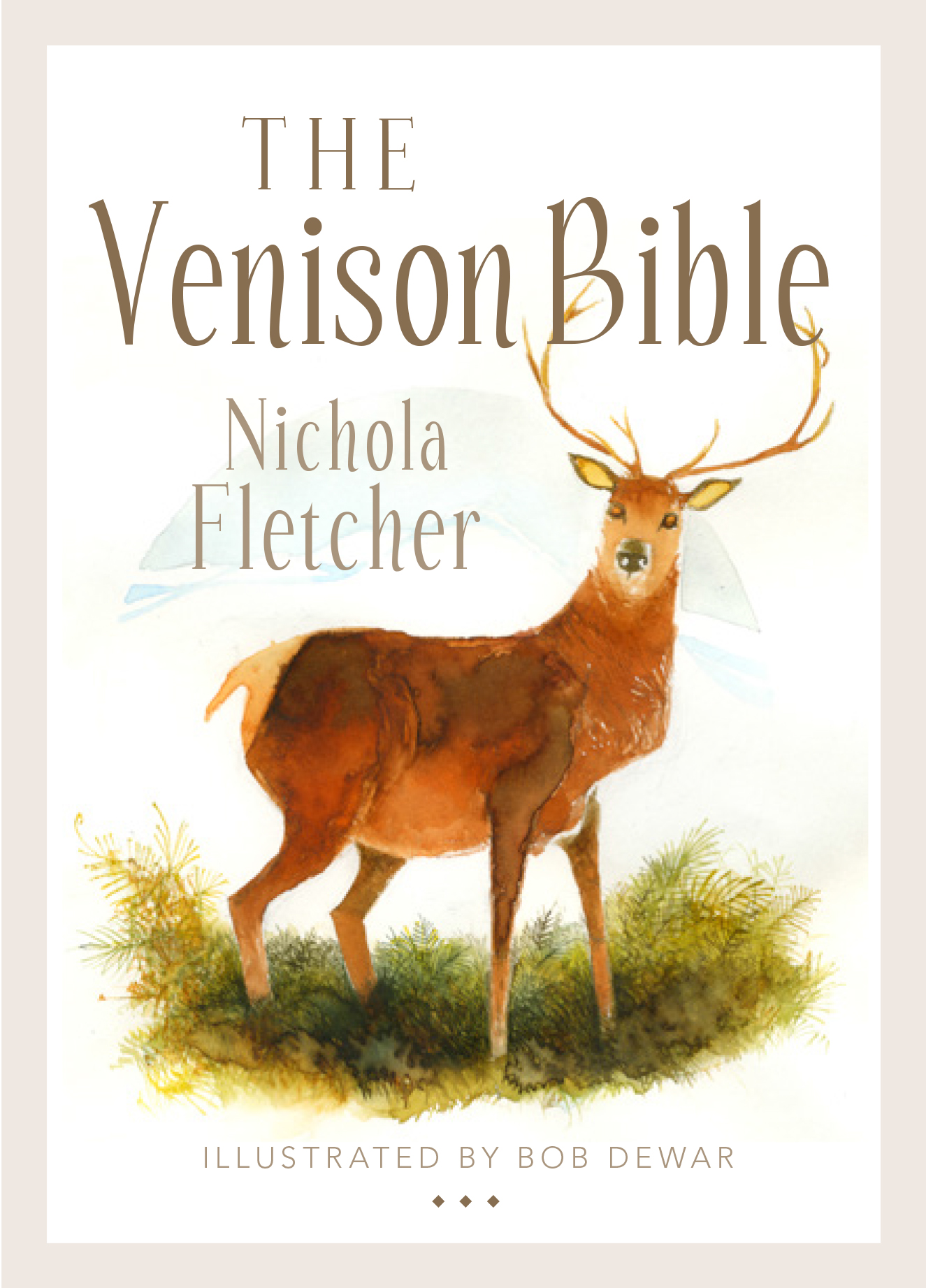 You would not have thought it possible to write three books about venison cookery, but by publishing The Venison Bible this is what Nichola Fletcher has just done. Her first (Venison, The Monarch of the Table) was written in 1983, but those who already have her major 2007 work Nichola Fletcher's Ultimate Venison Cookery may wonder why another book is necessary. But of course there are always lovely new recipes to try, many of these being ones she has cooked at high speed for her demonstrations and workshops in the last few years. However, this one is also aimed at people who are tempted to try venison but don't perhaps want to invest in such a large book.
Selling at only £4.99, this little gem is intended to be bought for impromptu gifts and stocking fillers, but above all as a promotional tool for people selling their own venison. The trade buyer's price makes it realistic enough to use as a promotional giveaway or incentive, or as prizes. As a lifelong ambassador of venison, Nichola doesn't like to think that anyone could have an excuse not to cook venison sucessfully. "Buy lots and give them away!" she says.
In 112 pages, the book covers all the basic ways of cooking venison and answers the most common questions about frying, roasting, slow cooking and even how to make the tastiest mince in the world. A very useful section covers the different types of sauces to complement venison, with a few good recipes for vegetables to go with it and there is an interesting page of flavour pairings which is good for people who like to make up their own sauces.
The book is illustrated throughout with nicely quirky drawings by Bob Dewar.
The Venison Bible is part of a series of books on iconic Scottish ingredients. It is published by Birlinn Limited, West Newington House, Edinburgh EH9 1QS. RRP £4.99. Individual orders can be placed through their website www.birlinn.co.uk. For trade orders, contact Vikki Reilly on VikkiR@birlinn.co.uk. Or for signed copied, contact Nichola www.nicholafletcher.com
---
It's venison again
September 2015
Friday 4 September is national 'Eat Scottish Venison Day' and to mark the occasion the Scottish Venison Partnership, the body that represents Scotland's venison producers, has revamped its website, contacted hundreds of venison stockists and launched a recipe competition to find the best easy-to-cook venison recipe. Suppliers and restaurants are also doing their bit to celebrate one of the UK's emerging food sectors, with special offers and new dishes being created to fly the flag for this highly nutritious and delicious meat.
With more than 10 new deer farms and a new deer abattoir starting up in Scotland in the last year, plus plans for another 10 or more starting this year, the Scottish Venison Partnership (SVP) is hoping that Scotland may eventually be able to supply enough venison to meet the best part of UK demand. Currently around one third of the UK market is served by imported product.
Dick Playfair, secretary of the SVP and a director of the Venison Advisory Service, says that the sector will continue to grow. He says: " Our target remains ambitious — to achieve up to 200 new deer farms in Scotland by 2020 with the capacity to produce a further 1000 tonnes of venison per annum. However, given the forecast growth of the market we will still rely on imports from New Zealand, Poland and elsewhere to satisfy all demand. People are really waking up to the healthy attributes of venison, the healthiest of all red meats, and that — coupled with steadily increasing availability and continual media exposure — is fuelling consumer demand."
Among the special offers to celebrate Eat Scottish Venison Day are Hopetoun Farm Shop's new Scottish venison sharing platter (available on Saturday 5th and Sunday 6th September), which includes mini venison steaks, venison burgers, venison links, salad, bread and dips at a special price of £12.50 for two, and Blackface Meat Company are offering a special price of £65.25 for their Roe Box, which comprises a selection of different cuts including tenderloin, striploin, haunch and diced venison.
---
Support for Scottish venison could help UK shortfall
April 2015
Venison has grown significantly in popularity as a meat product in the last five years. Yet, many British supermarkets are stocked with imported rather than local, UK produced venison.
A new, detailed study from the University of Aberdeen, the James Hutton Institute and the Scottish Venison Partnership, and funded by Interface Food and Drink, has determined what difficulties Scottish deer farmers face when trying to enter the sector.
Read the full story, and/or the full report.
---
Scottish Rural Awards 2015
March 2015
Highland Game, the Dundee based specialist venison processor won the Artisan Food Award at the Scottish Rural Awards gala dinner held on Thursday the 26th of March at Dynamic Earth, Edinburgh.
The judges verdict: "From a start-up 18 years ago, to supplying 1500 stores as well as butchers and restaurants throughout the nation, this winner has almost single-handedly brought their products into the mainstream, and in doing so has increased the demand from his suppliers — the farms, forests and estates of Scotland — as well as employing upwards of 100 people. The positive effect of this enterprise can be truly felt throughout rural Scotland."
---
Great Glen Charcuterie award
March 2015
Great Glen Charcuterie has been named runner up in the Artisan Food category of the 2015 Scottish Rural Awards Gala Dinner on Thursday (26 March).
---
Game Chef of the Year Winner Announced
January 2015
Martin Zuhamensky, Head Chef at The Playboy Club London has been crowned Game Chef of the Year following a cook off with nine other chefs from across the UK. Stephen Waters of Loch Lomond Golf Club finished second with Jonathan Cook from One Square Restaurant, Sheraton Edinburgh finishing third.

The competition, organised by Scottish game processor Braehead Foods, has been running for the last four years with a record number of entries again this year. The nationwide search to find the UK's best professional game chef began in August and concluded on 28 January this year at The Cook School Scotland in Ayrshire.
---
Deer Farming in spotlight at Farming Scotland Conference
January 2015
John Fletcher is a speaker at the Farming Scotland Conference, 'Progress to Profit' which takes place in Carnoustie on 5 February 2015. John, a deer farmer, vet, and a director of Venison Advisory Service Ltd, will be speaking on The Background to the Recent Upsurge in Scottish Deer Farms and Venison Production.
Other speakers at the conference, which is sponsored by EQ Accountants, Bell Ingram, Thorntons Law and RBS, include Professor Nick Hanley, Environmental Economist, St Andrews University; Angus Duncan, Head of Procurement, Diageo International Supply, and Jonathan Skinner, Farmers Weekly Young Farmer of the Year 2013.
---
Sainsburys is going wild!
October 2014
Sainsburys has launched two Scottish venison ranges with national distribution, in store from the 29th of October, supplied by Highland Game, Dundee Scotland.
Under its 'Taste the Difference' brand, Sainsburys is offering Scottish wild venison: Steaks 250g, £7/pack of two — chunky and tasty yet healthy; Diced Venison 300g, £4/pack — perfect for winter warming dishes and Venison Meatballs £3.50/pack — for family dishes.
---
Deer farming gathers momentum as retail sales of venison quadruple
August 2014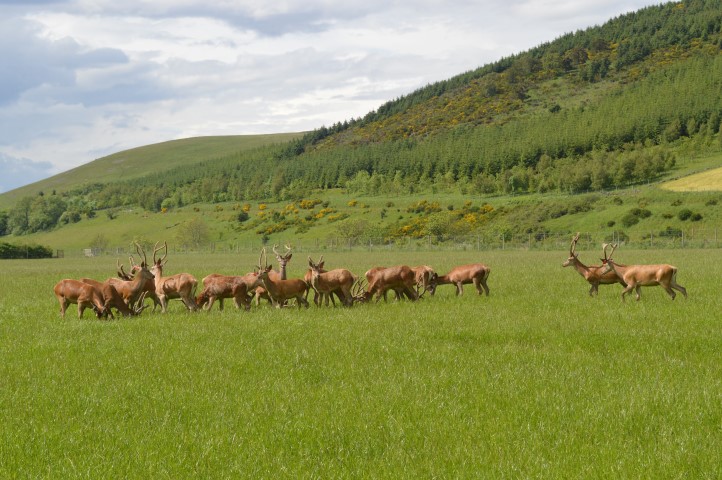 In the UK last year (12 months to end June 2014), retail sales of venison increased by over 400% according to Kantar Worldpanel, and that doesn't take into account what is sold directly by butchers, the restaurant, hotel and catering trade, farmers markets, 'farm gate' and mail order sales. To cope with this ever-increasing demand, UK suppliers are importing venison from New Zealand, Poland, Ireland and Spain and industry experts say that the UK is losing out on a lucrative market. In 2013 the equivalent of 29,000 carcases or around 1300 tonnes were imported to the UK from New Zealand alone. But over the last year the Scottish venison market has been limbering up to meet the challenge.
---
Awards for Hunters
April 2014
Congratulations to Hunters of Kinross who won six awards, presented on 23 April 2014, at The Scottish Craft Butchers Awards including a Gold award for their Venison Redcurrant and Rosemary Burger.
---
Highland Game's new refreshed range into Sainsbury
March 2014
Sainsbury are to stock a wide range of Highland Game's newly refreshed venison range — going into 250 stores in Scotland & England from Monday 10th of March.
---
New Year's honour for Scotland's Venison ambassador
January 2014
Pioneering venison ambassador, Nichola Fletcher, of Reediehill Deer Farm in Fife, has been awarded an MBE for her services to the venison industry.
An award-winning food writer, Nichola has worked tirelessly to educate people about venison, its health aspects as well as how to prepare and cook it. Having worked with both wild and farmed venison for over forty years, she is regarded as Britain's pre-eminent expert on all aspects of venison.
---
Deer Farm Demonstration Project – selection underway

December 2013
The search is underway to select a host farm for the Deer Farm Demonstration (DFD) Project that will start in Spring 2014. The DFD project is part of a two-year initiative to raise the knowledge base across Scotland's farming sector about the production of venison and breeding stock from deer farms and parks. Year 1 of the project will comprise five demonstration days spread evenly over 12 months with presentations, hands-on workshops and training, and the opportunity for those interested in diversifying into deer farming to meet experts from the sector.
The five demonstration days will cover many aspects of the deer farming year, plus talks from specialists on finance and funding, fencing, deer health, the market, butchery and more.
The project is a joint initiative by Scotland Food & Drink, the Scottish Venison Partnership, NFU Scotland and SFQC Ltd. It is supported by the SRDP Skills Development Scheme which is jointly funded by the Scottish Government and the European Union. In September 2013 on Scottish Venison Day Richard Lochhead MSP, Cabinet Secretary for Rural Affairs and the Environment, announced a £95,000 grant towards the project which has a total price tag for delivery over two years of around £130,000.
The move to increase production of farmed and park venison from Scotland comes at a time when the UK market for the meat is steadily growing – some estimates have put growth as high as 25 per cent per annum. However, a Scottish Venison Partnership forecast shows that even if the UK market grows at just 10 per cent per annum for the next 7 years, and production volumes increase by 5 per cent, UK imports of venison from New Zealand, Poland and elsewhere will still double over that period to meet market demand. This is in part due to the fact that Scotland's wild red deer cull, from which the bulk of our domestically produced venison comes, is static. It is estimated that Scotland currently produces around 3500 tonnes of venison per annum of which just 50 tonnes comes from deer farms. The target is to increase production from deer farms to 1000 tonnes per annum by 2020.
Year 2 of the project in 2015 will move on to deer park production with a similar programme of 5 demonstration days to be held at a deer park which will be selected in due course.
Any operational deer farm interested in applying for consideration as the demonstration unit should contact Richard Playfair (Secretary, The Scottish Venison Partnership, 0131 445 5570, mail@scottish-venison.info) for more information.
Farmers and other rural businesses interested in early registration to attend the demonstration day programme can do so by making contact (as above) also.
---
Food & Farming Day

November 2013
Pete Moore from Scottish Natural Heritage at the Food and Farming Day in Lanark Agricultural Centre organised by The Royal Highland Education Trust (RHET). 180 pupils from seven different schools look part in six food and farming based activities. The event took place this Wednesday 13th November. The school in the group are St John the Baptist Primary School.
---
Skills Development Scheme funding a welcome boost for Scottish venison sector
September 2013
The Scottish Venison Partnership has welcomed Cabinet Secretary Richard Lochhead's announcement, made on Scottish Venison Day 4 September, of a significant funding package to enable two deer demonstration units in Scotland to be set up.
The UK venison market is recording growth of up to 20 per cent per annum plus, although Scottish venison's share of this is reducing through a static annual wild red deer cull and not having developed new deer farming enterprises on a scale to input significant volumes into this market. Scotland produces in the region of 3500 tonnes of venison per annum of which just 50 tonnes come from farmed deer. New Zealand by contrast produced just under 23,000 tonnes of venison in 2011/12.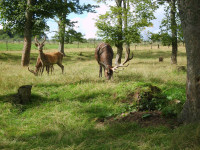 The Scottish Government, through the Skills Development Scheme, will be injecting £96,500 over two years into a total £131,000 demonstration project, the balance coming from in-kind contributions from the project partners and the Venison Advisory Service.
The bid for funding, led by Scotland Food and Drink, was assembled by a small working group including the Scottish Venison Partnership, NFU Scotland and SFQC.
Stephen Gibbs, Chairman, The Scottish Venison Partnership, said: "We are extremely grateful to the Scottish Government for enabling this venture which is the first small step in what has been billed as a new dawn for deer farming in Scotland. We believe that there is a tremendous future for Scottish venison and these two demonstration units will be vital in providing a lot more information to those interested in diversifying into deer farms or parks, or indeed starting from scratch.
"The demonstration unit project amalgamates three tested formulae in the rural sector of Monitor Farms, Wild Deer Best Practice Days, and the SL&E demonstration days, and Government funding has been crucial in the delivery of these schemes. We have every intention that this too will be a flagship initiative and a first for the farmed deer sector the UK."
The demonstration unit project will involve a series of day-long visits to a selected deer farm over a 12 month period to cover all aspects of the deer farming year. These will involve both seminar activity and hands-on practical demonstrations and experience. The programme will be supported by an online manual and run as a sub-domain of the Scottish Venison Website, which also hosts the Deer in Scotland Education Zone for schools developed by SNH.
Year 2 will be based at a different location and focus on deer park production, but with a similar approach. The project target is to reach an audience of 200 prospective new venison producers or breeders/finishers over its two-year period. A selection process to identify the two participating units will run shortly with the programme commencing in early 2014.
Dick Playfair of the Scottish Venison Partnership, and a director of the Venison Advisory Service says: "We have a sectoral target to increase venison production from Scotland by an additional 1200 tonnes by 2020 and, with a static wild red deer cull, this will have to come from deer behind fences or from substitution of roe for red which requires a number of other complex factors also to be addressed. Even with UK market growth at a modest 10 per cent, we estimate that the UK will still require imported product in increasing quantities to satisfy demand — so this exercise is not about reducing imports at all, but rather making sure that Scotland does not lose its share of this very dynamic, growing market."
---
Funding for deer farmers
September 2013
Funding of almost £100,000 is being made available to set up deer farm demonstration units in Scotland in the first project of its kind in the UK.
Rural Affairs Secretary Richard Lochhead made the announcement, on Scottish Venison Day, as he set out the Scottish Government's vision for the sector at the New Dawn for Deer Farmers event in Auchtermuchty, Fife.
---
Great Glen Game's Salami gets top marks in Great Taste Awards
August 2013
Artisan producer Great Glen Game Ltd is celebrating the news that its Green Pepper Venison Salami has wowed judges in Great Taste 2013 by being awarded 3 gold stars in the world's largest and most rigorous food awards scheme involving over 400 judges and thousands of hours of blind tasting.
---
Venison competition winner
July 2013
The Scotsman/Scotland on Sunday's venison cooking competition, which had its final cook off at the Scottish Game Fair, produced very high standards according to the judges who took a nail-biting 25 minutes of deliberation before choosing the final winner.
The eventual champion was Ally Bremner from Melrose, whose winning dish of Venison fillet with parma ham, courgettes and butter bean mash was described as 'delicious' and 'perfectly cooked'. Ally wins a break for four at the 5-star Alexander Residence in Perth, plus dinner in Perth's Pig'Halle restaurant, plus £100 worth of Scottish venison vouchers, plus VIP tickets to next year's Scottish Game Fair.
---
Scottish Food & Drink awards Rannoch Smokery
June 2013
Scotland's legendary game smoker, Rannoch Smokery, clinched the accolade for Best Meat category at the 2013 Scottish Food and Drink Awards on 30th May.
With over 20 years of perfecting and adapting tastes to meet its loyal and expanding market, Rannoch Smokery has now moved into a more refined range of venison, beef and ham to add to the smorgasbord which it has already accumulated in its larders.
---
Rebrand for Iconic Company as Venison Demand Continues to Soar
May 2013
The pioneering Scottish venison business Seriously Good Venison is to undergo a branding facelift, bringing it into line with modern day perceptions of venison.
Emphasising the artisan butchery skills of the company combined with a clean, modern design, the new brand reflects the way Seriously Good Venison has watched public opinion on venison mature, as demand for venison has grown. The rebrand will also allow the business to diversify into other top quality meats like lamb, beef and pork in the future.
The award-winning business operated under the name Fletchers of Auchtermuchty until last year when the business was bought over by former manager, Vikki Banks. Seriously Good Venison is now run from larger, state of the art premises in Tayside but continues to source its venison from the original Fife farm which continues its specially-formulated farming system with animal welfare at its heart.
---
Great exposure for Scottish Venison at Scottish Meat Trades Fair
May 2013
Those who attended the Scottish Federation of Meat Traders Association Trade Fair On Sunday 12 May at the Dewars Centre, Perth could not fail to notice Scottish venison — with the Scottish Venison Partnership attending the exhibition for the first time, and one of the main butchery demonstrations being a double act between Iain Hunter of Hunters of Kinross and Nichola Fletcher, leading authority on venison and author of Ultimate Venison Cookery.
Then, to cap it all, Iain Hunter won a Diamond Award in the Scottish Craft Butcher Awards for his Scottish Wild Venison Stir Fry, as well as five other awards. He said:
"For us it was a great day – possibly a record! It's a credit to everyone who works for us that we came away with so many awards, and quite extraordinary that on the day that I'm showcasing venison to my fellow butchers we are recognised with a Diamond Award for a venison product."
Hunters of Kinross also was awarded Gold for their Sweet & Spicy Chicken which was a recipe from 1st Year Apprentice Conner Stewart, Silver for The Beefy Banger a high Beef content sausage, Silver for their Premium Pork high meat content sausage, Silver for The Steak Burger a very high quality Rump Steak Burger, and Silver for the Smokey BBQ Pork Sausage.
Dick Playfair, Secretary of The Scottish Venison Partnership, who attended the event said:
"This was a first outing for us to this event. It's really important for us to start building stronger links between venison producers and the trade, and in particular independent butchers. They need to be able to know where to source product, whether wild or farmed, and red, roe, sika or fallow. We also need to make more advice available so that there is more information for their customers who are interested in trying venison as a healthy, alternative red meat."
Retail sales of venison in the UK are reported as rising by some 25 to 30 per cent per annum.
A new Scottish venison information leaflet is available to butchers and the trade, and for their customers.
---
Highland Game launches new products
October 2012
Highland Game is launching new Chefs Selection products into Tesco in England and the award-winning Venison Loin will be stocked in Tesco, Scotland. This is a ground-breaking contract for Highland Game and is the first time that Tesco in England will stock a whole range of venison.
---
New butcher leaflet
September 2012
A new leaflet, called 'Know your Venison' has been produced by the Scottish Venison Partnership and Nichola Fletcher (author of Ultimate Venison Cookery) in conjunction with the Scottish Federation of Meat Traders Association with support from Scottish Natural Heritage. The leaflet provides essential facts about venison and deer species for butchers and their customers.
---
Venison Advisory Service launched
September 2012
New consultancy to provide advice and assistance to prospective deer farmers...
The drive to increase Scotland's venison production, and the ambitious target of 400 more deer farms in Scotland within the next 10 years, has prompted the launch of a new consultancy specialising in advice and assistance to those interested in deer farming as a business opportunity.
---
Butchers get taste for venison
September 2012
Two venison presentations especially for butchers will be held in the Scottish Borders and Aberdeen. The first one is at the Carfraemill Hotel, by Lauder, Scottish Borders on Monday 10 September from 7.00 – 9.00pm, and the second one is at the Thistle Hotel, Aberdeen Airport on Wednesday 12 September from 7—9pm.
Two of the many Scottish themed events falling within Scottish Food & Drink Fortnight, these are designed to take away some of the mystique surrounding Scottish venison and give butchers the facts that they can pass on to their customers.
The events, which are organized by the Scottish Federation of Meat Traders Association (SFMTA) and the Scottish Venison Partnership in conjunction with the Scottish Gamekeepers Association and Lowland Deer Network Scotland, have been funded by Scottish Natural Heritage.
The educational evenings are part of an ongoing campaign to increase the popularity of locally sourced venison, and the borders one will include a talk by Alex Hogg, Chairman, The Scottish Gamekeepers Association, and a professional butchery and cutting demonstration by Bruce Brymer. The Aberdeen one will include a talk by Peter Fraser, vice chairman of the Scottish Gamekeepers Association and a demo by Bruce Brymer. Both evening also include a tasting of both roe and red venison.
---
Scottish Venison Day 2012
September 2012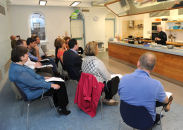 The Scottish Venison Partnership continues to raise awareness for its iconic Scottish food, and hosted hosting a professional tasting event for chefs and food writers in Edinburgh on Monday 3rd September, the day before Scottish Venison Day. Venison ambassador and award-winning food writer Nichola Fletcher challenged guests to tell the difference between red deer and roe deer, and demonstrated different factors which influence taste.
---
Demand For Scottish Venison Outstrips Supply
May 2012
A new group has been established to increase venison production in Scotland. Chaired by Scotland Food & Drink, and encompassing key stakeholders, the group will produce a "roadmap" to ensure growing demand for venison from consumers in the UK is met.
---
Hunters wins gold award for venison
April 2012
Hunters of Kinross, Iain Hunter (The Singing Butcher) won a Gold award at The Scottish Craft Butchers Awards for the Wild Venison, Redcurrant and Rosemary Sausages and Silver for Wild Venison, Redcurrant and Rosemary Burger, along with another Gold and Silver for other products.
---
Highland Game launches new 'Chef's Selection' range exclusive to Tesco
April 2012
Highland Game, the UK's largest venison processor, announce the launch of their new 'Chef's Selection' range which will be exclusive to selected Tesco stores in Scotland from 16th April 2012.
---
'7 Days in Scotland' in final of World Cook Book Awards
January 2012
Highland Game's recently launched book '7 Days in Scotland' is in the final of the Gourmand World Cook Book Awards 2012. The book is about the habitat of roe deer and includes mouth-watering roe deer recipes.
---
Lowland Deer Management in spotlight at Peebles conference
November 2011
A conference taking place at the Macdonald Cardrona Hotel, Peebles on Monday 14 November 2011 will highlight issues surrounding lowland deer management in Scotland in the context of the new Wildlife & Natural Environment (W&NE) Act. The event also marks the launch of the Lowland Deer Network Scotland, (LDNS) a new initiative designed to assist lowland deer managers to develop a more coordinated approach to managing the deer on their land.
---
Sales of venison are booming across Britain
The Telegraph — 8 November 2011
From steaks and mince to bambi burgers, shoppers are getting a real taste for venison.
---
Scottish Chefs Conference, Glasgow
November 2011
Highland Game is sponsoring the main course for the 6th Annual Scottish Chefs Conference which will be held on Monday the 7th November 2011 in the Thistle Hotel Glasgow.
650 Chefs will be served Roe Deer loin for their main course.
Highland Game is delighted that the event organiser and Chef, Willie Pike has chosen Roe Deer for the main course. Highland Game has been promoting Roe Deer meat this year and encouraging Chefs to put Roe Deer on their menus. Nearly all Roe Deer meat is today exported to the Continent but Highland Game would prefer to see it enjoyed in this country.
---
Book launch to promote Roe Deer
November 2011
Highland Game is launching a new book on Monday the 7th of November all about Roe Deer.
'7 days in Scotland' portrays the trail from forest to fork, taking the reader through the whole trail — the experience of nature in the habitat of Roe Deer, combined with recipes for mouth-watering Roe Deer dishes.
---
More venison in Waitrose
October 2011
From this month another 7 Waitrose stores across UK will stock Highland Game's venison. The Waitrose customers will now be able to buy diced venison, medallions and steaks of venison from Highland Game's popular retail range.
---
Royal Deeside Venison Festival
October 2011
Following the stunning succes of the first Venison Festival last Autumn, adventurous foodies are again in for the ultimate gastro treat thanks to the Royal Deeside Larder Venison Festival taking place in October. This unique five-day celebration of venison will take place from 25th to 30th October 2011 at various locations across Royal Deeside.
Around 20 hotels, restaurants, local food producers and country estates in the area have joined together to create a mouth watering programme of venison themed activities.
---
Success for Royal butcher with venison and cranberry pie
September 2011
The Queen's butcher has swept the board for the first time and taken the title of best pie-maker in Scotland.
Ballater butchers, HM Sheridan is the first company to ever take the top titles in both the Traditional Steak Pie and Speciality Pie competitions, organised for the past eight years by the Scottish Craft Butchers.
---
Scotland needs dramatic upswing in deer farm numbers
August 2011
The Scottish Venison Partnership has announced that if things don't change Scotland will lose out as the lucrative venison market grows, and that the country needs up to 500 more deer farms to cope with an ever increasing demand for this popular food product.
Click here for interview on BBC Radio 4 Farming Today (10:27 a.m. for venison story)
---
4th September is Scottish venison day
August 2011
'Eat Scottish Venison Day' is this Sunday (4 September) and restaurants, butchers, hotels, pubs, supermarkets and suppliers all around the UK are offering special venison dishes, menus, products and offers to mark the occasion.
The Scottish Venison Partnership, which recently announced that demand is greater than supply in this growing market, is adamant that the way forward is to continue to market Scottish venison aggressively while addressing the production capabilities and opportunities. They don't want Scotland to lose out on the potentially huge, global, financial potential of its indigenous and most iconic food source.
Although venison is still viewed by many as a special-occasion dish, or something to enjoy in restaurants cooked by chefs, butchers have reported a rapid rise in the request for venison for regular home-cooking over the last couple of years, and Sainsbury's are doing a roaring trade in Scottish venison burgers, sausages, meatballs, medallions and stewing cuts all year round.
Elsewhere on Eat Scottish Venison Day you will be able to sample venison steaks and pies in hundreds of Whitbread Inns, Punch Taverns and Vintage Inns throughout Britain, and farmers markets will be offering delights like Sheridan's Glenmuick Venison Casserole, West Highland Hunting's Venison and Haggis Scotch Pie, Great Glen's Wild Venison Charcuterie, Mortlach Game's Carpaccio of Wild Venison, among many others. Highland Game is also offering a specially priced Eat Scottish Venison taster box with free venison recipe book, and is soon to be launching a new book to promote Roe Deer. Fletchers of Auchtermuchty will be actively promoting Scottish Venison at various farmers markets in Scotland and at Scotland's Countryside Festival at Glamis this weekend.
---
Venison Pie scoops gold award
August 2011
TWO Dingwall butchers have been proving they are in the upper crust of the Scottish pie-making trade after triumphing in a national competition.

Pies made by Fraser Brothers and John M Munro, both butchers in the town's High Street, have been judged among the best in the country at the 2011 Scottish Craft Butchers Steak Pie Evaluation held in Perth.
---
Great Glen Game wins two stars at 2011 Great Taste Award
July 2011
A Scottish Artisan Charcuterie Producer from Roy Bridge is celebrating after winning a prestigious 2011 Great Taste Award. Great Glen Game has been presented with a coveted two-star Gold Great Taste Award for its Chilli Venison Chorizo.
Great Glen Game is based in the Highlands of Scotland. It was established in 2003 by Jan Jacob Baak. He started producing smoked venison made with prime cuts of local wild venison and over the years has developed new innovative products such as Chorizo, Pepperoni, Salami and a Bresaola all made with sustainably sourced local wild venison. Their products are sold in delicatessens across the UK including Fortnum and Masons and The House of Bruar. With its lean meat, low cholesterol and low calorie, the wild venison products are proving very popular by customers and chefs and fit into a healthy lifestyle.
---
Scottish Game Fair provides major shop window for Scottish Venison
June 2011
Mintel reported that sales of venison across the whole UK rose from £32M in 2006 to £43M in 2009 and every indication is that this upswing continues. For those members of the public who are already venison devotees or for those who would like to find out more about this healthy, nutritious meat then the GWCT Scottish Game Fair provides the perfect opportunity.
Roe deer venison will be featured in particular this year in a joint promotion between Forestry Commission Scotland, sponsors of the cookery theatre at the event, and Highland Game.
The GWCT Scottish Game Fair runs in the grounds of Scone Palace, Perthshire from Friday 1 July to Sunday 3 July.
Butcher John McGuire will be talking his audience through the choicest venison cuts in the cookery theatre at 10.30am every day. Nichola Fletcher, award winning venison chef and cookery writer, will be cooking venison every day in the cookery theatre, Friday at 12.00 noon, and Saturday and Sunday at 2.00pm. Also on Friday and Saturday at 2.00pm, and hot foot from the Royal Highland Show, Tom Lewis of Monachyle Mhor will be on the stand with venison again in the spotlight.
Visitors to the Fair will be offered the opportunity to taste venison, with special emphasis on roe venison, and the display on the Forestry Commission Scotland stand will feature photography showing roe habitat and roe stalking as well as new mouth-watering food shots and recipes from Highland Game's new book '7 Days in Scotland'.
Stephen Gibbs, Chairman of The Scottish Venison Partnership, the pan-sector organisation representing the venison industry in Scotland, says:
The GWCT Scottish Game Fair, with more than 30,000 visitors over its three days, provides a perfect opportunity to showcase this fabulous product, and roe venison in particular. One of our objectives, and that of Scottish Government, is to encourage more domestic consumption of Scottish venison. We are grateful to the Forestry Commission, Highland Game and others in giving it this extra exposure, and in particular changing the focus to roe which has traditionally gone for export, but which I am sure will steadily find favour with consumers and chefs closer to home.
---
Atholl Estates — Deer Day for Kids
June 2011
Atholl Estates hosted a fun filled day looking at Deer and Venison in Scotland, on the 1st of June.
---
It's time for Roe!
May 2011
Multi award winning specialist venison processor Highland Game in Dundee is urging chefs, professionals and private home 'masterchefs' alike to try Roe deer.
Today, almost all Roe Deer meat from Scotland is exported to the Continent where it has a first class status. They know how good it is and they know how to cook it. Highland Game would like to see this prime Scottish produce stay in this country.
---
Taste of Game Fortnight
November 2010
The two week National Taste of Game Fortnight starts on 6 November. In Scotland the promotion launches in Waitrose, Comely Bank, Edinburgh. There are tastings and featured recipes organised in conjunction with Scottish Government and the Forestry Commission Scotland including venison ragu with fresh tagliatelle, and potted venison. Rannoch Smokery is supplying hot smoked Scottish Wild Venison. For a full list of Taste of Game Fortnight events see www.gameson.org.uk
---
Highland Game wins prestigious Q Gold award
November 2010
Highland Game is celebrating another two great achievements — by being winner in the Quality Food Awards on November 10th, beating Jamie Oliver, Marks & Spencer and Sainsbury's in the Fresh Meat, Game and Poultry section, plus being awarded the prestigious Q Gold Award, meaning that they were considered the overall best out of all 28 categories.
---
Simple Simon's pies win gold stars
October 2010
Simple Simon's Perfect Pies has just won 2 gold stars in this year's Great Taste Awards for their Honeyed Venison Collops Pie — large chunks of wild venison haunch, marinated in olive oil and juniper, casseroled and finished with heather honey.
---
Highland Game Expands Product Line in Asda Scotland
September 2010
Highland Game is pleased to announce the launch of its latest product range 'Venison Meatballs, Italian Style'. Made from lean venison and pork with a hint of oregano and crunchy black pepper, Highland Game's new meatball range is now available in Asda stores throughout Scotland.
---
Whisky and Venison team up to launch Eat Scottish Venison Day
September 2010
Scottish Venison and Glengoyne have joined together this year to promote Eat Scottish Venison Day (4 September), with Chef Tom Lewis of Monachyle Mhor demonstrating, with two new dishes, how whisky and venison are a perfect partnership.
---
4th September to celebrate Venison as latest fashion in food
August 2010
After a successful launch last year, the 4th September will once again commemorate 'Eat Scottish Venison Day', and many UK restaurants and suppliers are marking the occasion with promotions, events, signature dishes, cooking schools and special menus.
---
World's Largest Venison Haggis coming to Edinburgh
September 2010
Saturday 4th September is the second annual Eat Scottish Venison Day. To mark this event Fletchers of Auchtermuchty, Scotland's longest established deer farm and venison retailer will be creating the largest recorded Venison Haggis.
---
Trust celebrates National Venison Day
September 2010
The National Trust for Scotland will mark National Venison Day on Saturday 4 September by serving up locally sourced meat fresh from the organisation's own Mar Lodge Estate near Braemar in Aberdeenshire. Mar Lodge venison will be served at several Trust properties across Scotland on the day.
---
Celebrating Venison in the Cairngorms National Park
August 2010
Catering industry professionals are being urged to sign up for a venison extravaganza at Glen Tanar Estate in the Cairngorms National Park on Wednesday 1 September.

The event, which will take place just ahead of Scottish Venison Day, has been organised by the Cairngorms National Park Authority (CNPA) in partnership with Glen Tanar Estate and will involve interactive butchery and food demonstrations.
---
September Game Dinner
July 2010
As part of its 'Love to Eat 2010' celebration of food and drink in Blairgowrie and East Perthshire, there is to be a Game Dinner on 8th September at the Dalmore Inn & Restaurant in Blairgowrie.
Join food expert Nichola Fletcher and celebrated chef Andrew May and his team, to taste and learn more about game meats, including venison, pigeon, partridge, rabbit, hare and fish.
The 6 course dinner includes drinks and canapes on arrival and tickets are £35 per person. To book, contact the Dalmore Inn & Restaurant, Perth Road, Blairgowrie 01250 871088. For more info about the 'Love to Eat 2010' celebrations and details of other events, visit www.visiteastperthshire.co.uk.
---
Eat Scottish Venison Box

August 2010
Highland Game will be launching a new venison taster box to purchase on their website under the name 'Eat Scottish Venison Box'. The box will include 1 x Burgers, 1 x Cranberry, 1 x Scottish Slimmer Sausages, 1 x diced, 1 x steaks, 1 x medallions, 1 x grillstreaks, 1 x meatballs and one cookbook. The box will help promote and celebrate Eat Scottish Venison Day. Also, STV will be giving away one of these boxes as a competition prize.
---
Great Glen Ltd wins gold stars from the Great Taste Awards
August 2010
Great Glen Ltd, The Old Butchers Shop, Roy Bridge, Fort William has won 4 gold stars from the Great Taste Awards for its wild venison salami and venison chorizo.
Organised by The Guild of Fine Food, the Great Taste Awards is the national, benchmark food awards employing the country's most rigorous judging system, ensuring the fairest, most accurate and trusted results.
The 2010 GTAs attracted a record number of entries. In total, 6021 food and drink products were blind-tasted, tested and discussed during two months of intense judging by 350 judges, comprising food writers, chefs, deli and farm shop owners, food producers and buyers.
---
Another award for Rannoch Smokery
July 2010
Rannoch Smokery, Scotland's leading meat and game smoker, is celebrating another Great Taste Award after winning a prestigious Gold Award for two of its premium products.
Rannoch Smokery's Roast Smoked Venison won a one-star Gold Award with the
---