Venison Steak with horseradish and beetroot relish
by Amy Willcock (with thanks to the Shooting Gazette)

Serves 6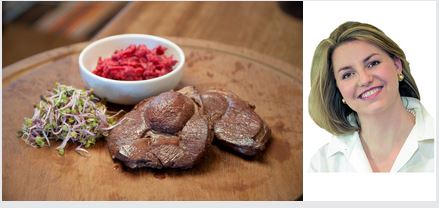 Ingredients
6 venison steaks
4 medium beetroots, peeled and cooked (you can buy them like this)
150g grated fresh horseradish (or a little more or less to taste)
275ml rice or white wine vinegar
125g caster sugar
1tsp sea salt
Method
The relish is all about the balance of flavours which suits you, so the quantities are a guideline. A relish is uncooked or semi cooked and is not a true preserve. Don't put relishes in airtight jars as they may explode as they ferment!
Grate the beetroot and put in a bowl with the grated horseradish. Set aside.
Pour the vinegar, sugar and salt into a saucepan and bring to the boil for a minute. Taste and adjust the seasoning. It should be a sweet, sour and salty balance. Pour the pickling mix over the beetroot and horseradish and fork it through gently to mix. Cover the bowl with clingfilm and put in the fridge overnight (or for up to three days before serving).
Just before cooking the steaks, remove the relish from the fridge and spoon some into a bowl. If there is any free liquid drain it off and put it back with any leftover relish.
Cook the steaks in a cast iron griddle pan as you like them – about two minutes per side depending on size, and transfer to a warmed plate to rest for at least 5 minutes. Serve with the relish and a radish sprout salad.

Amy Willcock lives on the Isle of Wight and writes for Shooting Gazette. She has also written a number of cookery/country living books.