Roast Loin of Venison with Caramelised Pears, Celeriac Purée and Chestnuts in Pepper Sauce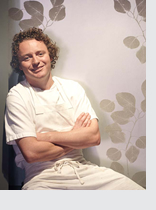 Celeriac Purée
1 Celeriac, peeled and diced
2 litres Full Fat Milk
1 litre Whipping Cream
1 Lemon
Salt and Pepper
Pear Williams
2 Pears
Butter
Sugar
Pepper sauce
3 Rashers Bacon
10 Shallots
2 tsp Cracked Black Pepper
4 sprigs of Thyme
1 Bay Leaf
4 Cloves Crushed Garlic
100 ml Brandy
2 tsp Sherry Vinegar
300 ml Veal stock
Venison
4 portions of Loin Venison
Method
Celeriac Purée
Sweat celeriac in a heavy bottomed pan with a knob of butter. Season with salt and pepper
Cover with milk and whipping cream. Add juice of one lemon
Cook slowly until celeriac is tender and the cooking liquid has reduced and thickened
Take off the heat and blitz until a smooth consistency
Pear Williams
Cut pears into quarters taking out the core
In a non stick pan foam a knob of butter with a sprinkling of sugar
Add pears and roast until caramelised
Pepper sauce
Chop and caramelise bacon
Add sliced shallots, cracker pepper, thyme and bay leaf
Add brandy and reduce until dry
Add vinegar and 300 ml reduced veal stock
Cook out slowly for 45 minutes
Venison
Season well and seal with good colouration on the skin
Cook until medium rare and rest
To Serve
To dress the plate heat the celeriac and the pear
Warm the chestnuts in the pepper sauce
Slice venison and present
Tom Kitchin's Scottish Venison loin with pumpkin gnocchi


4 x 200g venison loins, trimmed and ready to cook
vegetable oil
200g pumpkin
60g cooked girolles
200ml venison sauce
1 teaspoon chopped shallot
1 teaspoon chopped chives
200g fresh spinach
salt and pepper
Pumpkin gnocchi
500g pumpkin, cut into large pieces
100g flour
1 egg
1 egg yolk
vegetable oil
salt and pepper
To make the gnocchi
Preheat the oven to 150°C/Gas 2. Put the pumpkin pieces on a roasting tray and roast for about 1 ½ hours until very soft, ridding them of excess moisture. Pass the cooked pumpkin through a drum sieve to remove any lumps.
Sift the flour and set aside. Whisk the egg and egg yolk in a bowl and then fold in a small amount of hot pumpkin, in effect tempering the egg. Then add this into the rest of the pumpkin. Once it is thoroughly incorporated, fold in the sifted flour, taking care not to allow any lumps to form.
Knead the mixture into a ball and then shape into rolls about 1.5cm in diameter. Cut these into sections about 2.5cm long. To shape the gnocchi, hold a fork in one hand and place a piece of dough against the tines of the fork. Using your thumb, press in and down the length of the fork. The gnocchi should curl slightly and take on the impression of the fork (good for catching sauce). Drop these pieces into seasoned boiling water and leave until they begin to float. Remove immediately and allow to cool. Toss the gnocchi in a little oil so they don't stick together.
To prepare the venison loins
Preheat the oven to 200°C/Gas 6. Season the venison. Heat a teaspoon of vegetable oil in a heavy pan and sear the venison. Finish in the hot oven, cooking for 6 or 7 minutes for medium-rare meat. Take the meat out of the oven and set aside to rest
To finish
Cut the pumpkin flesh into fat slices. Heat a teaspoon of vegetable oil in a non-stick frying pan and cook the pumpkin until golden brown. Add the gnocchi and girolles and warm everything through together. Finish with a spoonful of venison sauce and a teaspoon each of shallots and chives. Toss through until glazed. Briefly cook the spinach until wilted and season.
To serve
Slice the rested venison. Place some pumpkin and gnocchi mix in the centre of each plate with some spinach. Arrange some slices of venison on top and finish with venison sauce.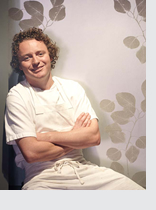 Tom Kitchin is one of Scotland's most experienced and talented chefs. After starting his career at the prestigious Gleneagles Hotel near his childhood home in Kinross, he has travelled the globe to train with and work alongside the world's most respected culinary stars at their 3-star Michelin establishments. Such chefs include Pierre Koffmann at La Tante Claire in London, Guy Savoy at Restaurant Guy Savoy in Paris and Alain Ducasse at the Louis XV in Monte Carlo. He has also been Executive Head Chef on the private yacht of JCB company owner Sir Anthony and Lady Bamford. In January 2007 at the age of only 29, Tom was awarded his first Michelin Star, having only opened The Kitchin Restaurant in Edinburgh in June 2006.