Loin of Wild Scotch Venison with Black Pepper Sauce – served with red cabbage braised in port, parsnip puree and parsnip crisps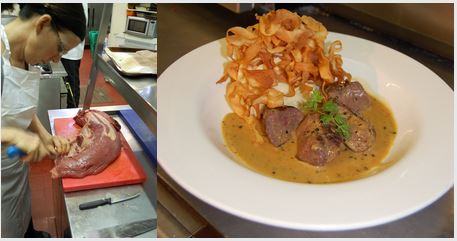 Lynne Marie Sanders is Chef?proprietor of the fabulous Bistro Aix in north London. Lynne trained in France's top establishments. After completing her professional training course at the Cordon Bleu in Paris she went on to train with super-chef Alain Ducasse (6 Michelin stars) at Louis XV in Monte Carlo and at Le Bastide de Moustiers in the haute Provence. She also worked with Michelin starred chefs Jean-Louis Nomikos, Roland Durand and Jacaues Cagna in Paris, and well-known pastry chef, Gerard Mulot of Patisserie Mulot in Paris.
Like her mentor, Alain Ducasse, she believes in a pure style of cooking with an emphasis on quality ingredients, minimal handling and the pure expression of individual flavours without over- manipulation or over-presentation.
Recipe
From the whole rack of venison, cut off fillet and loin, then chop up all the trimmings and bones, roast it all nice and very brown. Brown 3 or 4 onions and carrots and make a good rich stock, simmering it for about 6 hours, pass and reduce.
Cut 150g portions and season and brown lightly in a hot pan, then put it in the (250) oven about 5 minutes, then rest for about 5 minutes (in the restaurant we then warm it in the oven another 2 minutes) We find that this resting period makes the meat perfect medium rare.

Sauce: deglaze the cooking pan with cognac, flambe, then add the reduced venison stock, a bit of cream, crushed black pepper and reduce to a coating consistency, then a nob of butter.
Red Cabbage: slice cabbage thinly with a mandoline, put in a deep pan and cover with half red wine and half port, season, cook slowly until the cabbage is quite soft but still with a slight bit of crunch and all the liquid is cooked out. Add a bit of balsamic vinegar and cook out if it needs a bit more acidity.
Parsnip puree: peel and cut up parsnips and steam till cooked, puree in a food processer with a bit of cream and a nob of butter, salt, until smooth.
Parsnip crisps: peel parsnips and then shave off curls with the peeler and put in deep fryer, stir a bit, until brown – this is very fast. Drain on paper, keep warm.
Slice venison in 3 thick slices, spoon over sauce, parsnip puree beside and parsnip crisps on top.