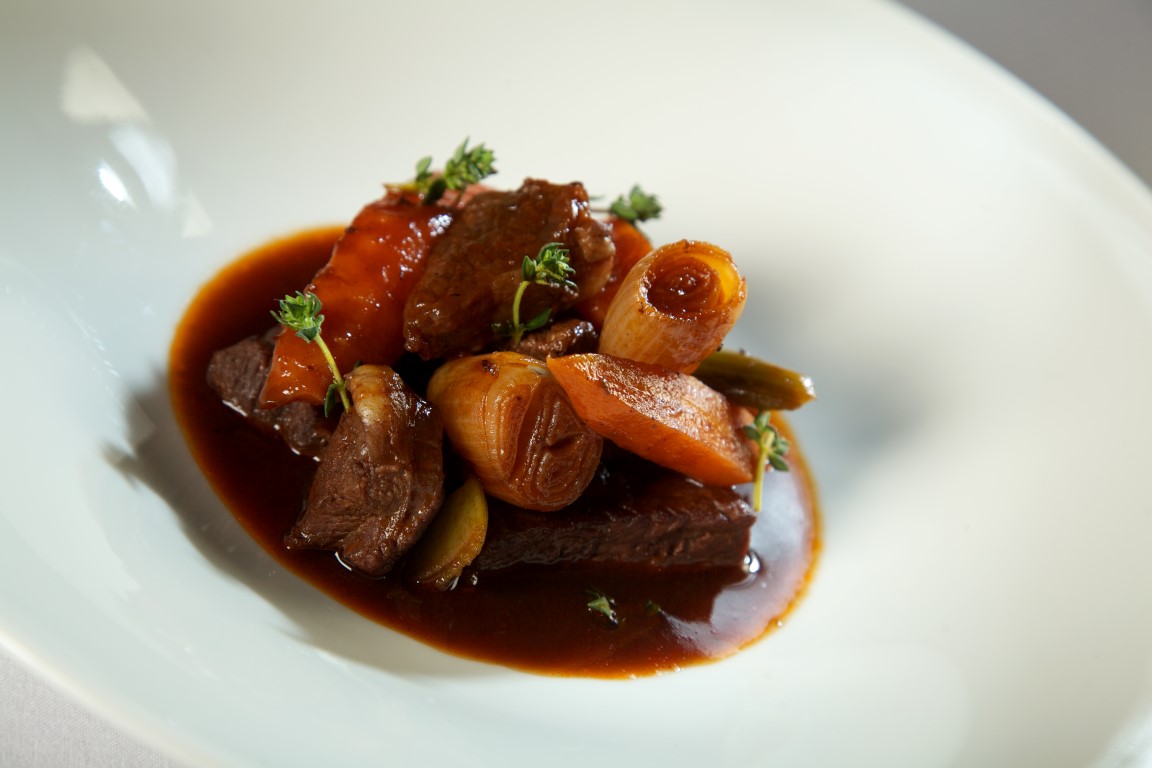 Serves 4
You will need:
800g Diced Venison
2 Carrots – peeled and diced
6 Large elephant shallots –peeled and roughly chopped
3 Cloves of garlic – crushed
3 Sticks of celery – washed and diced
2 Leeks – white only – washed and diced
Small handful of thyme
1ltr fresh veal/beef stock
400ml red wine
100g tomato puree
Dusting of plain flour
Oil
50g unsalted butter
1 Bay leave
Salt
Freshly ground black pepper
Vegetable oil
Method:
1. Preheat the oven 150°C. Heat a pan over a medium heat with a dash of oil and add the diced venison in batches to lightly colour the meat. Once coloured, remove the meat from the pan and place to one side.
2. In the same pan used to colour the venison, add the butter and once the butter begins to foam lower the heat and slowly start to sweat the shallot, carrot, leek and celery for 4-5 minutes. Once softened, add the garlic and cook for a further 30 seconds.
3. Sprinkle with a tablespoon of flour, add the tomato puree, stir and cook for 1 minute.
4. Add the red wine and turn the heat up to a simmer, stirring and scraping at the bottom of the pan to release and residue. Reduce the wine by half.
5. Pour in the stock and pop the venison into the pan along with the bay lead and thyme. Season with salt and freshly ground black pepper. Simmer and place the lid on the pot and braise in the oven for 1 ½ -2 hours or until the meat is tender. The stew could also be cooked in a slow cooker on a medium setting for 6-8 hours.
6. If the sauce is slightly runny, place the pan back on the heat and simmer the sauce to reduce until thickened to the desired consistency.
7. Serve with a generous dollop of creamed potatoes and roasted roots.