The list below is in alphabetical order by town.
You can nominate your favourite restaurant or hotel serving Scottish venison, simply send us an email and let us know who you would like to nominate.
To avoid disappointment we advise telephoning the restaurant in advance to check that Scottish venison is on the menu.
---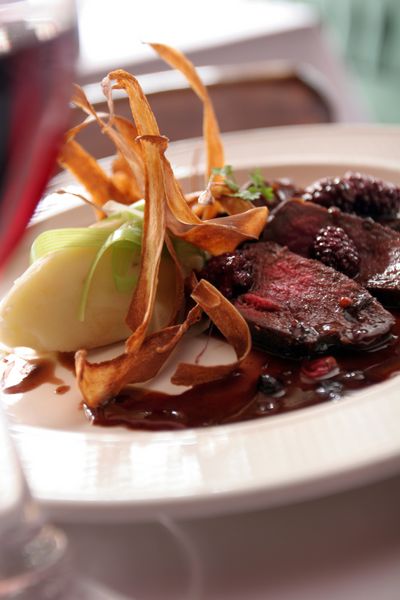 Aix
54 Topsfield Parade
Tottenham Lane
Crouch End
London
N8 8PT
Tel:020 8340 6346
www.bistroaix.co.uk

'We serve the loin with a black pepper sauce, parsnip puree and parsnip crisps. In the summer we serve it with a wild blackberry sauce.
'As a chef I enjoy the deep flavours that we get from our venison stock and that contrast with the tender meat of the loin. It is a wonderful flavourful lean meat that takes to deep sauces or summer fruits or even dried fruits like apricots.'
---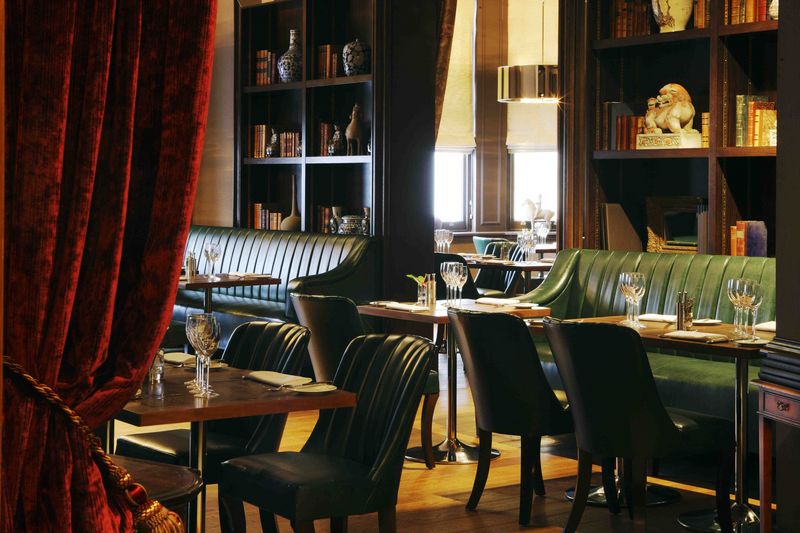 Aubrey Restaurant
The Kensington Hotel
109-113 Queen's Gate
London
SW7 5LR
Tel: 0207 5896300
www.doylecollection.com
Aubrey Restaurant & Champagne bar, situated in the Kensington Hotel in the heart of South Kensington, is a traditional British restaurant within a luxurious hotel and cosy environments.
Head Chef Russell Ford has created a menu of carefully selected British dishes in keeping with the theme of the restaurant, particularly popular is the roasted fillet of Balmoral venison.
---
Boisdale of Belgravia
15 Eccleston Street
London
SW1W 9LX
Tel: 020 7730 6922
www.boisdale.co.uk
Boisdale of Belgravia, London's best-loved shrine to all things Scottish, is located next to Eaton Square, a short stroll from Victoria Station. The Restaurant serves the greatest 36 day dry aged Aberdeenshire beef and Highland haunch of venison pie in London and in the Macdonald Bar you will find one of the world's finest selections of malt whiskies and cuban cigars. Every night live classic jazz & blues are performed at Boisdale. Adjoining the restaurant is the Courtyard Garden with a retractable roof for alfresco dining in summer and the Back Bar serving a good selection of draft ales. The Cigar Terrace is completely covered and on the first floor roof with sofas, armchairs, and cushions as well as overhead heaters and tartan rugs for the winter. The Jacobite Room is a richly paneled room ideal for private lunches and dinners and has plasma screen and conference call facilities.
---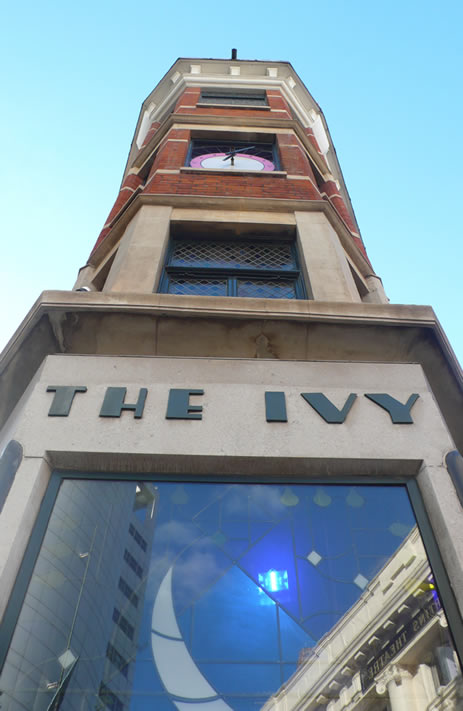 The Ivy
1-5 West Street
London
WC2H 9NQ
Tel: 020 7836 4751
www.the-ivy.co.uk
When owner Abel Giandellini and Maitre d'Hotel Mario Gallati joined forces in 1917, their modest café soon gained favour amongst the theatre community. The name The Ivy was adopted when actress Alice Delysia quoted a popular song of the day "don't worry, we will always come to see you, we will cling together like the ivy". The space we know today closely resembles the grand restaurant created by the original duo back in their heyday. Over the years The Ivy changed hands on numerous occasions but in 1990 it underwent a renaissance and was refurbished and re-launched with leading contemporary artists creating site-specific commissions. Today, the Ivy still caters to the theatre crowd, attracting a wide variety of customers from the arts and media as well. The brasserie-style menu continues to offer favourites such as bang bang chicken, Thai-baked sea bass with fragrant rice and soy dip and Shepherd's pie and The Ivy hamburger.
Cuisine:
British / international
Director:
Fernando Peire
General Manager:
Keiran Terry
Head Chef:
Gary Lee
Private room:
25 to 60 seated / 120 cocktail reception, breakfast lunch and dinner
Dress code:
Ties are not required
Children:
Welcome
Pre & post theatre dining:
Yes
Payment:
All major credit cards, cash
Opening times:
Lunch
Mon to Sat: 12 noon to 3pm
Sun: 12 noon to 3.30pm Dinner
Mon to Sat: 5.30pm to 12 midnight Sun: 5.30pm to 11pm
---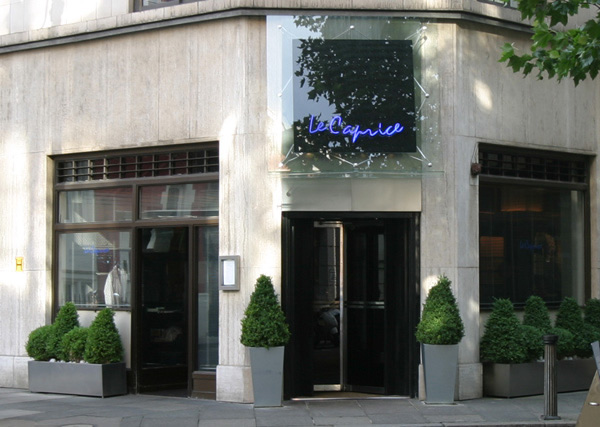 Le Caprice
Arlington House
Arlington Street
London
SW1A 1RJ
Tel: 020 7629 2239
www.le-caprice.co.uk
Le Caprice was originally opened in London in 1947 by Mario Gallati, a former Maitre d' of The Ivy. It was then reopened in 1981 in its modern-day guise. With its contemporary black and white décor, David Bailey photographs and long bar, Le Caprice has established itself as a social institution in London with its effortless style, coveted cuisine and well-heeled crowd. Generations of diners have enjoyed the unique atmosphere and unsurpassed service of the avant-garde eatery, making it a firm favourite among a discerning international clientele. In October 2009, Le Caprice will be recreated across the pond in New York's iconic hotel, The Pierre, and will bring a fresh dining experience to the exclusive Fifth Avenue.
Cuisine:
Modern British and European

Director:
Jesus Adorno

General Manager:
Nick Roderick

Head Chef:
Lee Bull

Private room:
No
Group booking:
8 people
Dress code:
Ties are not required
Children:
Welcome
Music:
Live pianist every night
Pre & post theatre dining:
Yes
Set menu:
Pre and post theatre
Payment:
All major credit cards, cash
Opening times:
Lunch
Mon to Sat: 12 noon to 3pm
All day a la carte
Dinner
Mon to Sat: 5.30pm to 12 midnight
---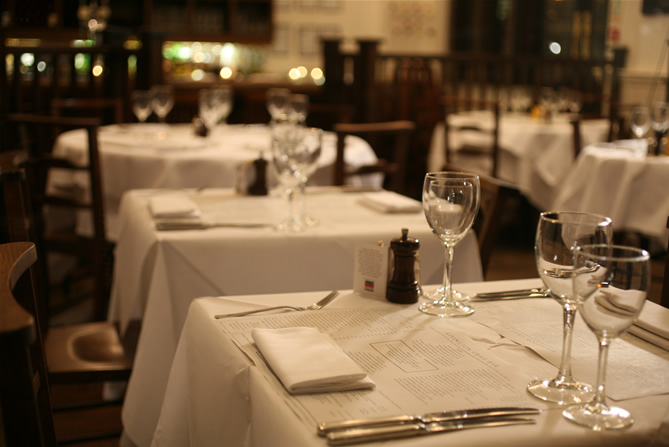 Rivington Grill, Greenwich
178 Greenwich High Road
London
SE10 8NN
Tel: 020 8293 9270
www.rivingtongrill.co.uk
Situated in the same building as the Greenwich Picture House, Rivington Greenwich is set on 2 storeys, with a mezzanine seating 45 people for private parties. There is also a terrace boasting 25 seats for alfresco dining. Similar to its sister restaurant in Shoreditch, the walls are whitewashed, the floors stripped wood and the bar stretches the width of the dining room. The tables are simply dressed in white linen and there is a more relaxed area at the entrance for cocktails and snacks like potted Morecambe Bay shrimps, Welsh rarebit and eggs Benedict, all on the 'on toast' section of the menu. Rivington sources all its food responsibly from the British Isles and is a true neighborhood restaurant.
Cuisine:
British

Restaurant Manager:
Grant Hawthorn
Head Chef:
Simon Wadham
Private room:
Yes (mezzanine, from 20 up to 45 seated / 60 cocktail reception)
Group booking:
8 people
Dress code:
Casual
Children:
Welcome (high chairs available)
Set menu:
Sunday set menu
Payment:
All major credit cards, cash
Opening times:
Breakfast
Thur to Sun: 10am to 12 noon
Lunch
Thur to Sun: 12 noon to 5pm
Dinner
Tues to Sat: 5pm to 11 pm
Sun: 5pm to 10pm
Bar menu
Available all day
---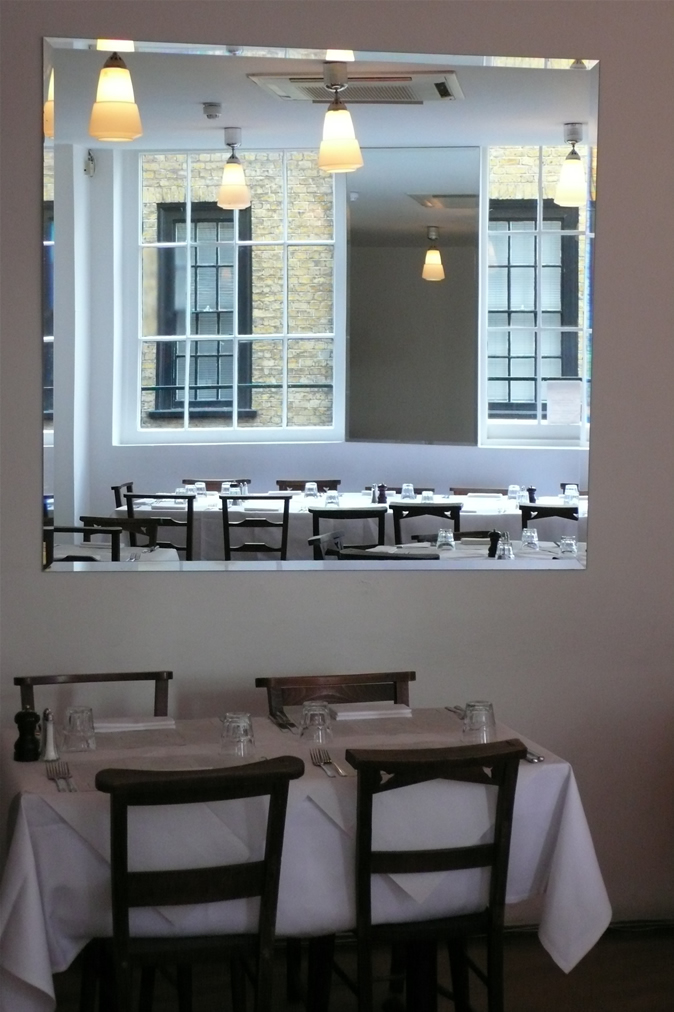 Rivington Grill, Shoreditch
28-30 Rivington Street
London
EC2A 3DZ
Tel: 020 7729 7053
www.rivingtongrill.co.uk
The raison d'être is simplicity, taste and sourcing; the restaurant is an honest, down-to-earth place where people can enjoy seemingly effortless dishes, cooked with products meticulously sourced from around the British Isles. The restaurant is decorated with whitewashed walls, stripped wood floors, long comfortable eating counters and bespoke Deco lamps; the tables are simply dressed with white linen. Rivington's menus feature seasonal produce, harvesting responsibly from ocean and seashore, forest and farm. The area of Shoreditch and Hoxton is a major hunting ground for London's eclectic and adventurous crowd and Rivington is at its core.
Venue type:
Restaurant + bar + counter dining

Cuisine:
British

General Manager:
Matthew Hobbs
Head Chef:
Simon Wadham
Private room:
Yes (from 18 to 24 seated / 50 cocktail reception)
Group booking:
8 people
Dress code:
Casual
Children:
Welcome (high chairs available)
Set menu:
Saturday + Sunday set lunch menu
Payment:
All major credit cards, cash
Opening times:
Breakfast
Mon to Fri: 8am to 11am
Lunch
Mon to Fri: 12 noon to 3pm
Brunch
Sat and Sun: 11am to 4pm
Dinner
Mon to Sat: 6pm to 11pm
Sun: 6pm to 10.30pm
Weekend all day menu
Sat and Sun: 11am to 6pm
Bar menu
Available all day Mon to Fri