Loin of Roe Deer centered with a Barley and Forest Mushroom Risotto, served with Port Wine and Prunes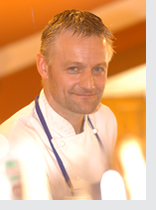 Willie Deans trained with the National Health Service for 5 years before moving on to The Irvine Hospitality Inn, then as Head Chef at Highgrove House Hotel in Troon. When his family came along he decided to work more stable hours and lectured in Glasgow for 7 years. At this time he was never out of the lime light as he competed all over the world with The Scottish Culinary Team. Willie has also worked in some of the most prestigious establishments in Scotland, including the Turnberry Hotel, Lochgreen in Troon, Auchterarder House Hotel and The Buttery in Glasgow.
Since taking over the restaurant "Let's Eat" in October 2005, "Deans @ Let's Eat" has become a Perth favourite. Willie and his team of Chefs work together with his wife Margo and a dedicated front of house team, all of whom strive to make your experience at the restaurant one you will remember.
Deans@Let's Eat seats 65 guests and has a lovely lounge area to enjoy a cocktail or an aperitif. Head Chef Willie Deans serves the best of seasonal Scottish ingredients, including fresh seafood and seasonal meats and vegetables. For more information, visit www.letseatperth.co.uk.
Ingredients
Deer
560g (1lb.4oz) Loin of Roe
(free from bone, fat and sinew)
Risotto
25 g (1oz) Unsalted Butter
25 g (1oz) Peeled Shallots
25 g (1oz) Peeled Celery
170 g (6oz) soaked and washed Barley
225 ml (8fl oz) Chicken Stock
140 ml (5fl oz) Double Cream
2 tbs Creme Frache
1 tsp la Truffata
few drops Truffle Oil
170 g (6oz) Wild Mushrooms, trimmed
140 ml (5fl oz) Carrot Blanching Liquor
25 g (1oz) Butter
½ Lemon
pinch Castor Sugar
Salt & Pepper
Sauce
170 g (6oz) mirepoix of Carrot, Onion, Leek, Celery, Parsley Stalks, Thyme and Garlic
Trimmings and bones from venison
8 sliced prunes d'agen soaked in port
1.1 lt (2pt) venison stock
50 g (2oz) unsalted butter
Garnish
12 Peeled Shallots
2 tsp Olive Oil
1 tsp Castor Sugar
55 ml (2fl oz) Balsamic Vinegar
140 ml (5fl oz) Venison Stock
12 Baby Carrots, peeled
12 Baby Beetroot, peeled
12 Asparagus, trimmed
12 Baby Turnips, peeled
Method
Julienne the carrot, and blanch in boiling salted water. Blanch the remaining vegetables for the garnish, refresh, drain and refrigerate. Add the butter, sugar and lemon and reduce until a coating consistency. Retain.
For the risotto sweat the shallots and celery in butter without colouring, then add the barley. Mix until well coated in butter, and then stirring continuously, add the stock a little at a time. When all the stock is added and absorbed, add the cream in the same fashion. Finally add the creme fraiche, la truffata and the truffle oil.
In another pan sauté the clean wild mushrooms in butter, gently fold through the risotto, season and retain.
Heat the olive oil in a pan, seal the deer, remove and add in the mirepoix, colour and place the venison on top of the mirepoix, roast in the oven for 5 minutes, remove and allow to rest in a warm place.
Pour off any fat and add the port wine and prune juices. Reduce by half, add the venison stock, boil rapidly, skim and reduce to a light coating consistency. Reserve and keep warm.
In a thick-bottomed pan, brown the shallots in a little olive oil. When thoroughly coloured add the sugar and caramelise, then add the balsamic vinegar, cook to a brown syrup, then bit by bit, add the stock, reducing all the time. The shallots should be cooked after 15 minutes. Reserve for use.
Re-heat the vegetables in an emulsion of water, butter and lemon juice until nicely glazed.
To Serve
Place a 2″ wide by ¾" deep ring onto 4 plates. Fill and press with the hot risotto. Cut the roe deer into 3 slices each and arrange onto the plates. In between arrange the vegetables. Finish the sauce by bringing to the boil and add the prunes and butter, season and pour around the plates. Top the risotto with glazed julienne of carrot. Serve.