The Ivy's saddle of Scottish venison with mashed beetroot and elderberries
Serves 4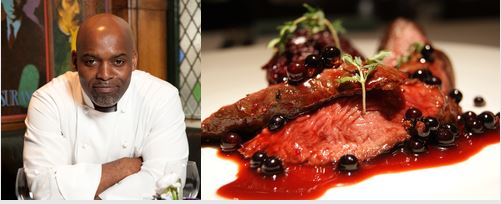 The saddle is a very tender cut of venison. You can roast it on the bone, but as the eye of meat is generally so small, a few minutes in a pan is all it really needs. Elderberries are not normally available in the shops, so you'll need a nearby tree! They should be ripe around now, probably earlier than usual this year. Otherwise you could replace them with redcurrants or any other small berries. Beetroot is in season now, too. Since you're mashing them, you may want to look for larger beets.
Ingredients
4 venison saddle fillets, approximately 150g each, trimmed
½ glass of good red wine
6 juniper berries, crushed
A few sprigs of thyme, chopped
A splash of vegetable oil
For the sauce
150ml beef or game stock
50g elderberries
For the mashed beetroot
250g raw beetroot
20g butter
Salt & freshly ground black pepper
The day before you wish to serve the venison, place the saddles in a stainless-steel or china dish with the wine, juniper and thyme and cover with clingfilm. Leave to marinate overnight. The next day, place the beetroot in a saucepan, cover with water and add a couple of teaspoons of salt. Bring to the boil and simmer gently for 45 minutes to 1 hour or until they are soft. Drain in a colander and leave to cool. After about 15 minutes rub off the skin with your hands (a pair of rubber gloves is useful protection against staining). Return to the saucepan, coarsely mash with a potato masher and add the butter. Season with salt and freshly ground black pepper and mix well. Put to one side.
Remove the venison from the marinade, pat the fillets dry on some kitchen paper and season with salt and freshly ground black pepper, putting the left over marinade to one side. Heat a little vegetable oil in a heavy frying pan and cook the fillets for 2 to 3 minutes on each side for medium rare, or a few minutes longer for medium. The cooking time will vary depending on the thickness of the fillets. Leave to rest on a warm plate to catch the juices. Meanwhile, put the marinade in a saucepan and boil it rapidly until it has reduced to about a tablespoonful. Add the stock and any juices from the cooked venison that will have seeped onto the plate, and simmer for a few minutes or so until it thickens. Strain the sauce through a fine-meshed sieve and return to the pan, adding the elderberries and butter, and stir well until the butter has emulsified into the sauce.

Reheat the beetroot and spoon into the centre of the plate. Slice the venison into 4 or 5 pieces and arrange on the beetroot, and finish with the sauce.
Gary Lee, Head Chef, The Ivy
Gary Lee (45) has been Head Chef at The Ivy Restaurant since 2008, and Executive Chef since 2011.  His Caprice Holdings' career includes positions as Sous Chef at Le Caprice and Head Chef at Bam-Bou before taking up his role as Head Chef at The Ivy where he also oversees the Private Dining Room.  His tenure here has also seen the opening of The Club at The Ivy in September 2008.  His career started at The Dorchester under legendary Anton Mosimann, and having worked under several different chefs before becoming Head Chef himself, Gary has garnered a great deal of knowledge, experience and insight into different cultures and cuisines.  He loves Asian cuisine for its honesty, history and methodology, and modern British for its evolution and creativity.  All this experience and understanding fit neatly with one of Gary's life philosophies: "there is no substitute for knowledge".  He ensures that everyone who works under him gets constant tutelage, encouragement and training.  Gary's big passion outside work, apart from his three daughters, is boxing.  He trains up to four times a week and is a great fan of the discipline, concentration and tactical control that the sport requires; he certainly puts these qualities to good use in the kitchen.
Gary's secret ingredient
Water. Water is the fruit of life. Without water, where would we be? Apart from the usual reasons for using water – drinking, washing, living – Gary uses water in every aspect of cooking. He boils it, steams with it, flavours it, breaks down sauces with it and makes sauces with it. For him water is the unsung hero of the kitchen.