Venison Casserole with Turnip and Blackberries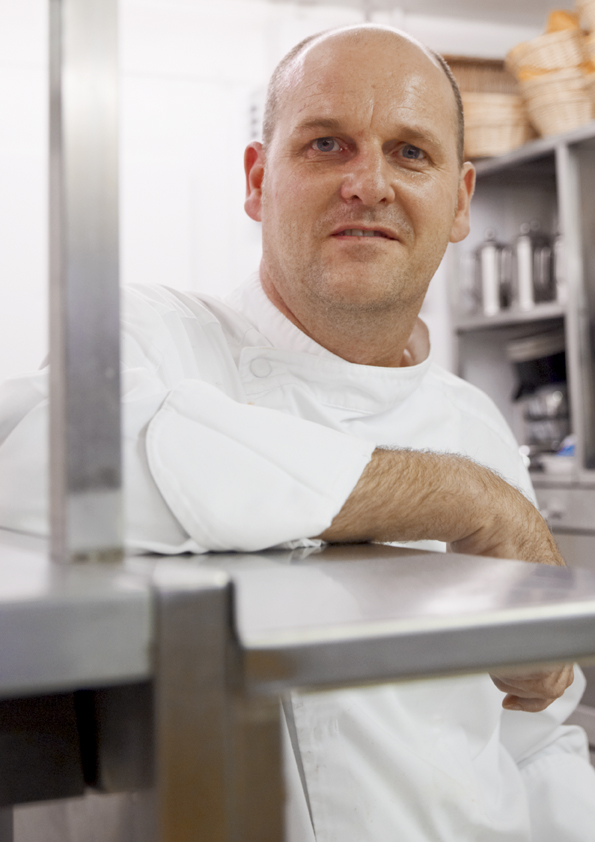 Patrick Bardoulet, formerly of the Horseshoe Inn, Eddleston in the Scottish Borders, moved to the Black Swan, Hemsley, North Yorkshire in 2014. At The Horseshoe he specialisesdin cooking Scottish food with a French twist and takes advantage of the fantastic Scottish produce available.
Patrick trained at CFA Chantilly for two years before taking on his first role as commis chef at a hotel in his home town of Clermont. From there he worked in establishments throughout England and Ireland before heading to the Scotland to take up the position of sous chef at The Roxburghe Hotel. He was then asked to work as head chef at The Jedforest Hotel in Jedburgh where he gained 2 AA Rosettes. Patrick then re-located to Denmark for 12 months to work with television celebrity chef Mortens Kro. In this time his reputation began to grow and as a result was head-hunted in 2003 and asked to work as executive head chef in the fine dining restaurant at the 5 star Annabelle in Pathos. However Patrick always wanted to own his own restaurant and it was in 2005 when he became the proud owner of The Horseshoe Inn at Eddleston by Peebles.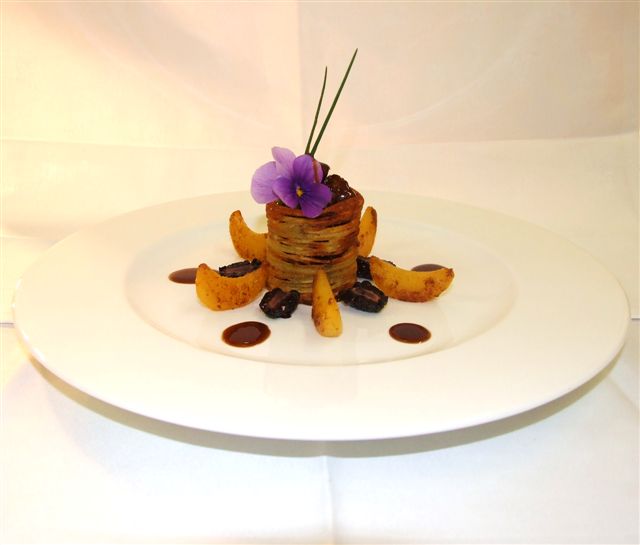 Ingredients

500g of Diced Roe Deer
100g of Chopped Shallots
75g of Chopped Carrots
1 Chopped Leek
1 Chopped Garlic Clove
2 Bay Leaves
1 large Sprig of Thyme
4 Crushed Juniper Berries
400ml Venison Stock
150ml Red Wine
Salt and pepper to season
1 Turnip
1 Punnett of Blackberries
3 Large Potatoes

Seal the meat in a heavy pan until brown, remove the meat and set aside.

In the same pan, brown the vegetables, deglaze with the wine, reduce by half, add the meat and the venison stock.

Bring gently to the boil for a few minutes, put the lid on and bake in the oven pre-heated to 170 degrees for about 50 minutes.

Now, remove the meat from the liquid, discard the herbs and vegetables, reduce the cooking liquid by 2/3 to the syrup consistency add the meat and keep it warm.

With a Japanese mandolin make some long Julienne of potato that you will wrap around a ring (this should be covered with grease proof paper) and deep fry at 150 degrees until golden brown.

Cook your turnip croissant or other shape in boiling water until tender, then pan fry with a small spoon of honey.

Pour the meat into the potato tower arrange the turnip and blackberries around and serve the excess sauce in a jug.

Bon Appetit!