Pan fried spiced highland venison loin, savoy cabbage and King Edwards' rustic mash, black cumin seeds red onion compote, achari sauce.
Saffron is an award-winning fine dining Indian restaurant at Oldbury. Executive chef Sudha has won numerous regional and national awards and is known for featuring Scottish venison and game in his recipes. Saffron is certainly not your average Indian restaurant so it is no surprise the clientele come from far and wide to sample the award winning chef's fare.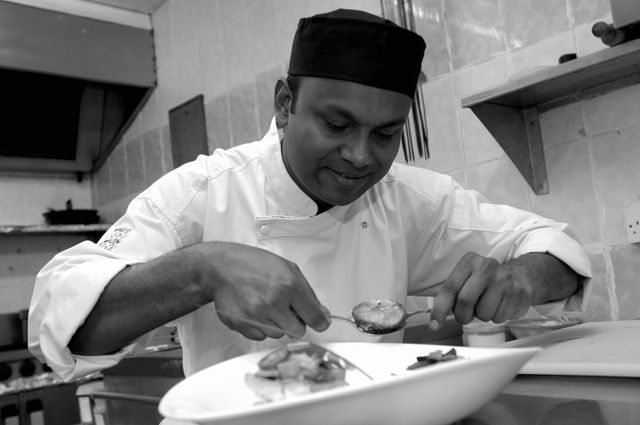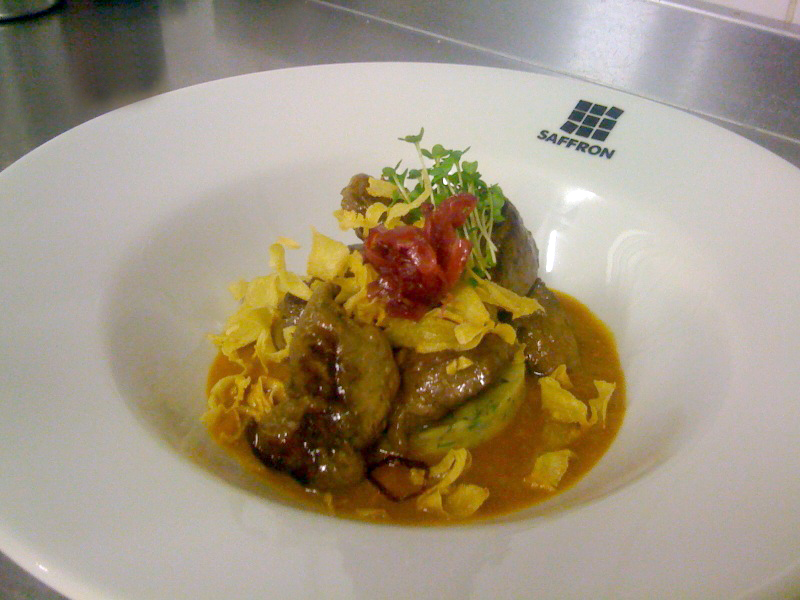 INGREDIENTS
Venison loin – 220 gms
Salt – to taste
Pepper – to taste
Oyster sauce – one tablespoon
RED ONION COMPOTE
Sliced red onion – ½
Black cumin seeds – ¼ gm
Olive oil – to fry
Red wine vinegar – 30 ml
sugar – to taste
water

MASH
Savoy cabbage- 35 gms
King Edwards potatoes – 2
Cream – 25 ml
Butter – 20 gm
Roasted cumin powder – 2 gm

ACHARI SAUCE
Boiled onion paste – 100 gms
Tomato puree – 15 gms
Turmeric powder – 2 gm
Cumin powder – 1.5 gm
Coriander powder – 1.5 gm
Boiled cashewnut paste – 40 gm
Salt – to taste
Chopped pickle – 15 gms
Oil
PARSNIP STRIPS
Parsnips
Cornflour

VENISON

Portion the venison loin into ¾ inches escalopes, sprinkle the seasoning and keep aside.

PARSNIP STRIPS:

Peel the parsnips, again with the peeler start peeling the peeled parsnip, dust the parsnip into corn flour and deep fat fry till golden brown, remove and drain the excess fat.

ACHARI SAUCE

Heat oil add the onion paste and sauté, then add the spices cook until the spices leave the fat, use little water if it is getting dry, then add the tomato puree, stir it and boil, add the cashew nut paste, cook for few minutes, adjust the seasoning, add the chopped pickle at last and keep aside.

RED ONION COMPOTE

Heat oil , crackle the black cumin seeds, add the sliced red onion, sauté for sometime then add the red wine vinegar and seasoning and keep under low fire for simmering, check the consistency and remove.

POTATO AND SAVOY CABBAGE MASH

Boil the potatoes and mash it. Heat the butter, add the julienne of savoy cabbage sauté, then add the spices followed by mash potato, finish it with cream.

Pan fry the venison loin ensuring it is medium to rare, lastly put little oyster sauce and toss the loin and keep aside.

TO PLATE
Take a deep pasta bowl, with a chef's ring put the mash first, place the pan fry venison loin followed by parsnip strips and red onion compote, drizzle the achari sauce all around.